our services
---
Power Sweeping
Landscaping
Pressure Cleaning
Porter Services
Other Services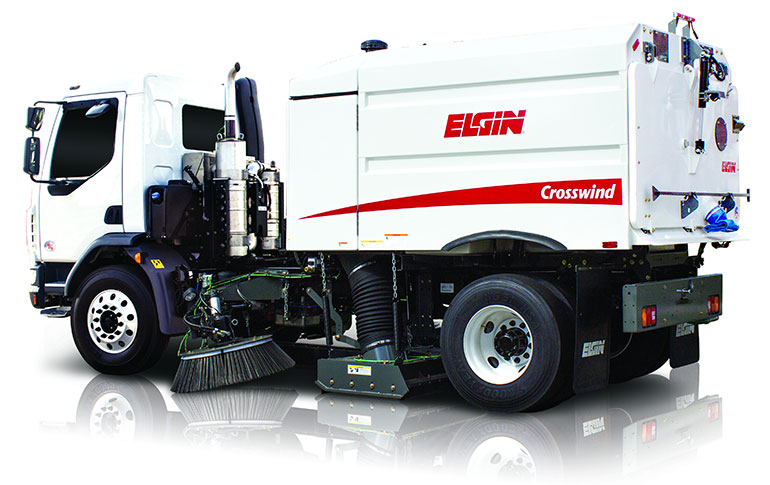 Environmentally Friendly, Efficient, and Affordable Service.
Mr. J's Industrial Services is a power sweeping company in Miami-Dade County. We have been serving South Florida since 1981 and are totally committed to our clients' needs. Our fleet consists of Ford and Toyota pick-ups as well as Isuzu NPR power sweepers. The ambience of property that is well maintained not only enhances its value but also radiates a degree of satisfaction to your tenants, their customers, prospective tenants and more importantly, your client.
Our Advantages
One Contract
Juggling two or more service contracts from several companies can add up to one giant headache. We'll put an end that problem.
One Invoice
We'll send you one invoice for all of the services provided monthly. This will take the burden off your staff when it's time to figure out your monthly costs.
24/7 Availability
Available to our clients 24 hours a day, 7 days a week with friendly customer service representatives. Our maintenance team is quickly dispatched for immediate response to any of your maintenance needs.
One Service Rep
There will be one service representative for all of your service needs who will make it their business to know all of your business needs inside out.
One Quality Assurance Program
We take quality assurance very seriously. It's our way of preventing mistakes and unhappy property managers all while delivering solutions to our clients when issues arise.
One Emergency Contact Number
There will be one contract, one invoice, one service representative, one QA program, so of course we'll keep it consistent and provide one emegency contact number.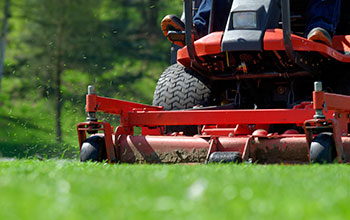 Scheduled Mowings
We pride ourself on our ability to maintain and perfect a lawns appearance. Using directional mowing patterns and a careful approach towards trimming, we can meet your lawn maintenance needs through a per-time basis or with a seasonal contract.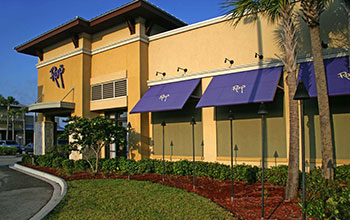 Mulching
Mulching perennial/annual beds is an important way of keeping an adequate amount of moisture near plants as well as being a weed preventative. Different types of mulch can also work with coloring of the landscape to enhance a bed's appearance. Mulch can be applied anytime from April - October.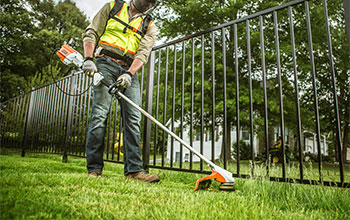 Edging
Don't under-estimate the impact of edging. We understand that one of the most impactful services provided is edging, it's often brushed off by many service providers but that's not a option for us. Only a great edging can complement our mowings. Let us show you how it will improve your property's curb appeal.
Pressure Cleaning
We offer several services for commercial customers. Our service area is Miam-Dade and Broward County. If you require service outside our local area give us a call, we will try to accommodate. Our equipment is capable pressure washing sidewalks, walkways and powerful enough when raising the pressure to cut through thick grease and grime on concrete. Our equipment also has hot water capabilities for melting gum and for treating oil stains on driveways. Our team is highly trained with years of experience. Call us with any questions we are more than happy to help. Please note that not all pressure cleaning services offered are on the website.
If service, dependability, reliability, and a commitment to excellence are qualities you are looking for in a sweeping contractor, then we are the company for you. We are totally committed to our clients' maintenance needs. We are available 24 hours a day, 7 days a week. Our maintenance team is radio-dispatched for immediate response to any of our clients' maintenance needs.
Management
Satisfaction Guaranteed
Our crew has a total of 35 years maintenance experience. We will make all attempts to satisfy our customers' needs to their satisfaction. We're a professional pressure washing service provider that services cleaning to commercial, fleet, or industrial customers. Our mobile system comes to you to give you hot water, and a variety of environmentally friendly chemicals and using pressure washing-friendly detergents designed for the surface that you want cleaned while protecting the surroundings!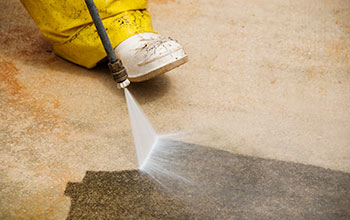 Porter Services
Our porter services provide visible, hands-on cleaning services that give your tenants the comfort of knowing that all immediate needs will be met.
Services can include the following:
Remove small debris from the pavement areas
Removal of cigarette butts
Litter pick landscaped areas
Change trash receptacle liners
Removal of all solicitations not authorized by Property Management
Light building maintenance of common areas
Report illegally dumped debris
Available:
Daily
Weekly
Special Events
Detailed Features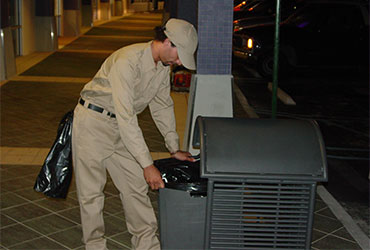 Monitoring of trash units
Having a clean safe environment will keep your tenants happy. Shopping malls, strip malls, office buildings and apartment complexes are some examples of the type of properties we manage. This service is provided nightly as part of the maintenance services.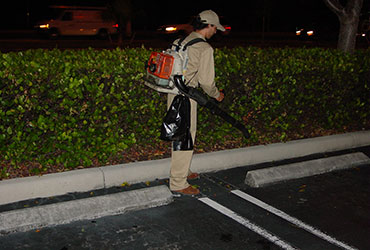 Maintenance of landscaped areas
We offer our clients debris removal services nightly because every commercial property needs to be properly maintained and cleaned and that's what we do best. Without proper cleaning and repair, the property will soon be a gathering place for dirt, grime, and trash.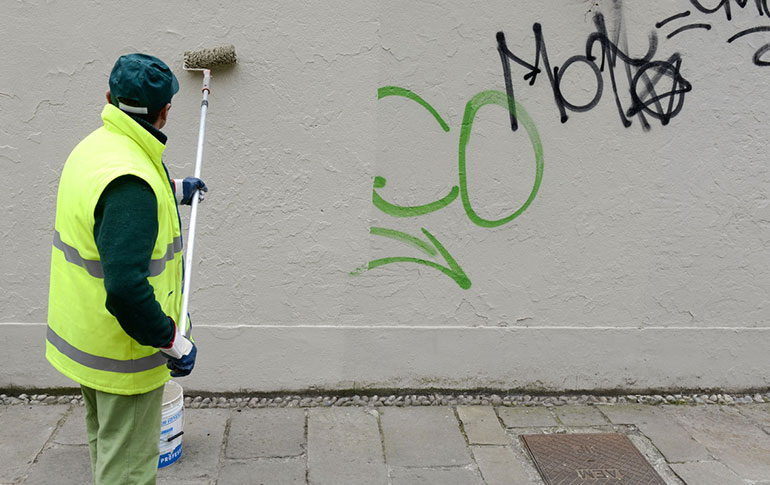 As part of the Mr. J's Industrial Services, Inc.'s catalog we offer the ability for you to append services to your service plan.
Any of these services can be added to any main service you request:
Clearing of Office Space for New Tenants
All Tenants' Minor Maintenance Problems Handled
Graffiti Removal
Edge Walkways (weed killer)
Remove illegal signs attached to the common areas including trees
Inform management of emergency matters occurring in the common area of the centers
Paint speed bumps in the parking lot, paint handicap car stops blue
Respond to emergency calls from tenants
Severe weather preparedness measures